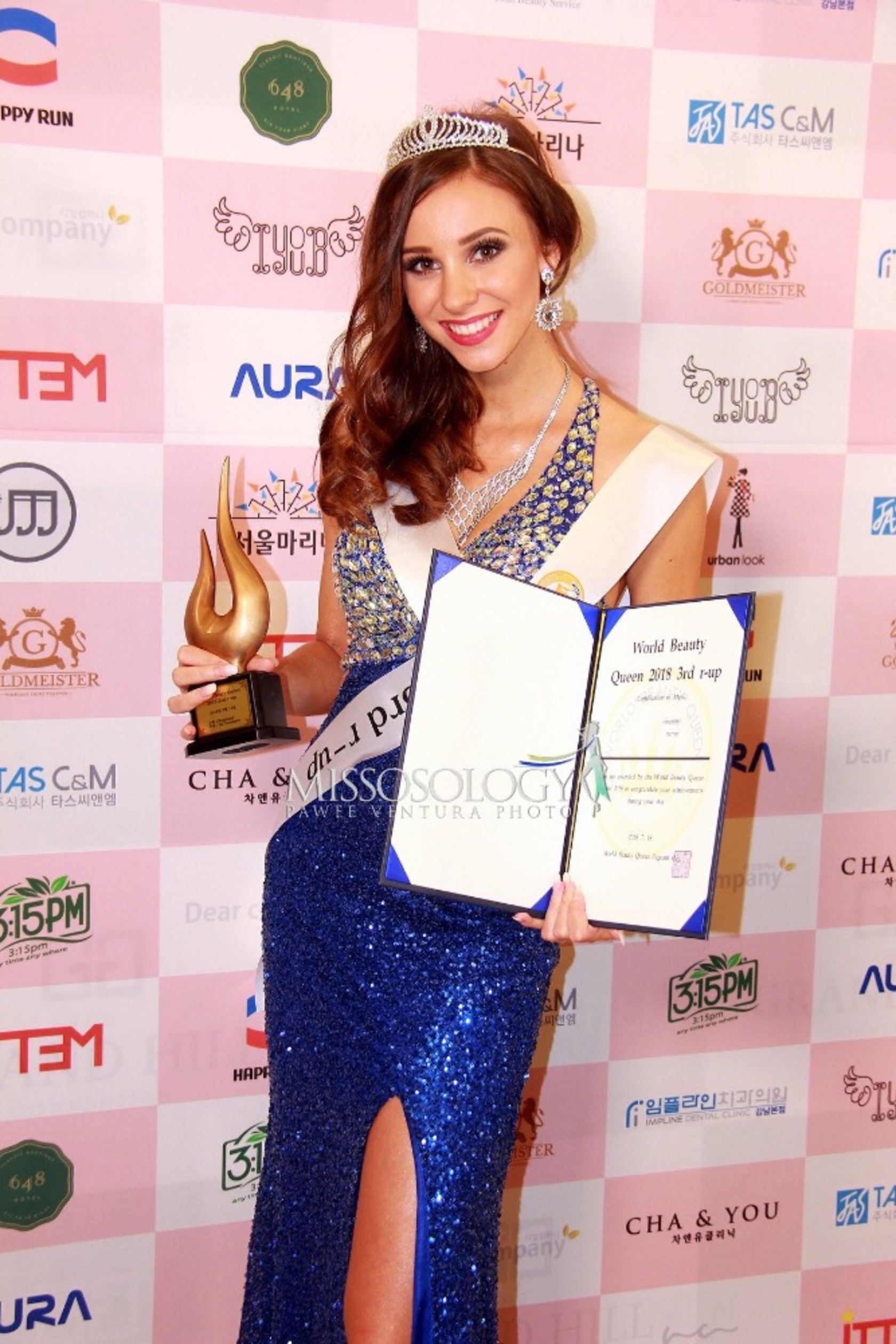 Miss Look Bella brought a crown from Soul
Only eighteen years old model, Kristýna Stanislavová, won wonderful 4th place in international beauty contest in South Korea! Beauties from all around the world lived in the most luxurious district of fairy Seoul, Gangnam and visited many interesting places like Gyeongbokgung Palace. The opportunity to represent the Czech Republic Kristýna gained thanks to victory in prestigious beauty contest Miss & Mr. LOOK BELLA 2017, organized annually by production and modelling agency PRESTIGE MODELS.  
Silicones, plastic surgeries and bulimia. Natural beauty from Strážnice scored.
Kristýna and other 23 girls from all over the world spend whole 14 days with preparation for final gala evening. Czech model was the youngest one in the contest and she was one of a few who were fighting with their natural beauty. "Plastic surgery was nothing unusual. My opponents had filled lips, modified breasts and also back," discloses another beauty from Strážnice, which is hometown of other successful Czech Miss Lucie Hadašová and Eliška Bučková. Beside the plastic surgeries she also encountered typical model illness! "One of finalists suffered bulimia," discloses Kristýna. But Kristýna herself is not fond of any diets; she keeps her body thanks to exercising.
Miss France and Czech snacks – two helpers in Korea
This was my first flight and it was such a long one, but eventually it was ok and there I was in Korea. After the landing I met Miss France, with who we immediately became friends." describes promising beauty her first modelling journey to World Beauty Queen Pageant 2018. "Every day there was a full program. Visiting the sponsors, photo shooting of propagation materials and cosmetic brands or practices of choreography. It was really exhausting."  says model and Miss LOOK BELLA 2017 about the background of the beauty contest. Models also enjoyed luxury Korean meals, but Kristýna survived on simple snacks. "Sushi, spicy food, neither rare steaks are my favourites, so I mostly ate snacks that I took with me from home. But I have found strictly Czech restaurant in district Gangnam with wonderfully Czech name "Na zdraví", says Kristýna. But she immediately adds that the hunger strike was worth it. "It was for me hard to believe, that I was in Top 5, it is such a success and I would recommend every model to try international contest" adds Kristýna.
Kristýna had sexy dress and national costume in suitcase
Kristýna took with her to fairy Seoul also fitting cocktail dress and national costume from Salon MIA and also evening dress from Dana Svozílková wedding studio, in which she received the crown. Competition photos were professionally taken for young model by worldwide recognized photographer Arthur Koff, who is also official photographer of Czech beauty contest Miss & Mr. LOOK BELLA 2018. Another season of it starts this September. Organizing agency PRESTIGE MODELS will be also this year looking for the most interesting faces that will then represent Czech Republic also abroad. 
"Next year I am going to finish high school, so this is what I am going to focus on mostly. But I definitely want to keep on working in modelling. You may meet me on some of LOOK BELLA castings," adds Kristýna together with informing that also patrons of this year´s contest – worldwide successful models Veronika Krajplová and Antonín Beránek will be there.  
Did you like this article? Share it!